What Is an Endpoint Protection Platform?
An Endpoint Protection Platform (EPP) is an 
Endpoint Security
 solution deployed to endpoint devices like PCs, laptops, and mobile devices to detect malicious activity, prevent malware attacks and respond to cyberattacks and alerts. Ideally, an enterprise's unified endpoint security framework includes an EPP with an 
Endpoint Detection and Response (EDR)
 solution to protect against cyberthreats effectively.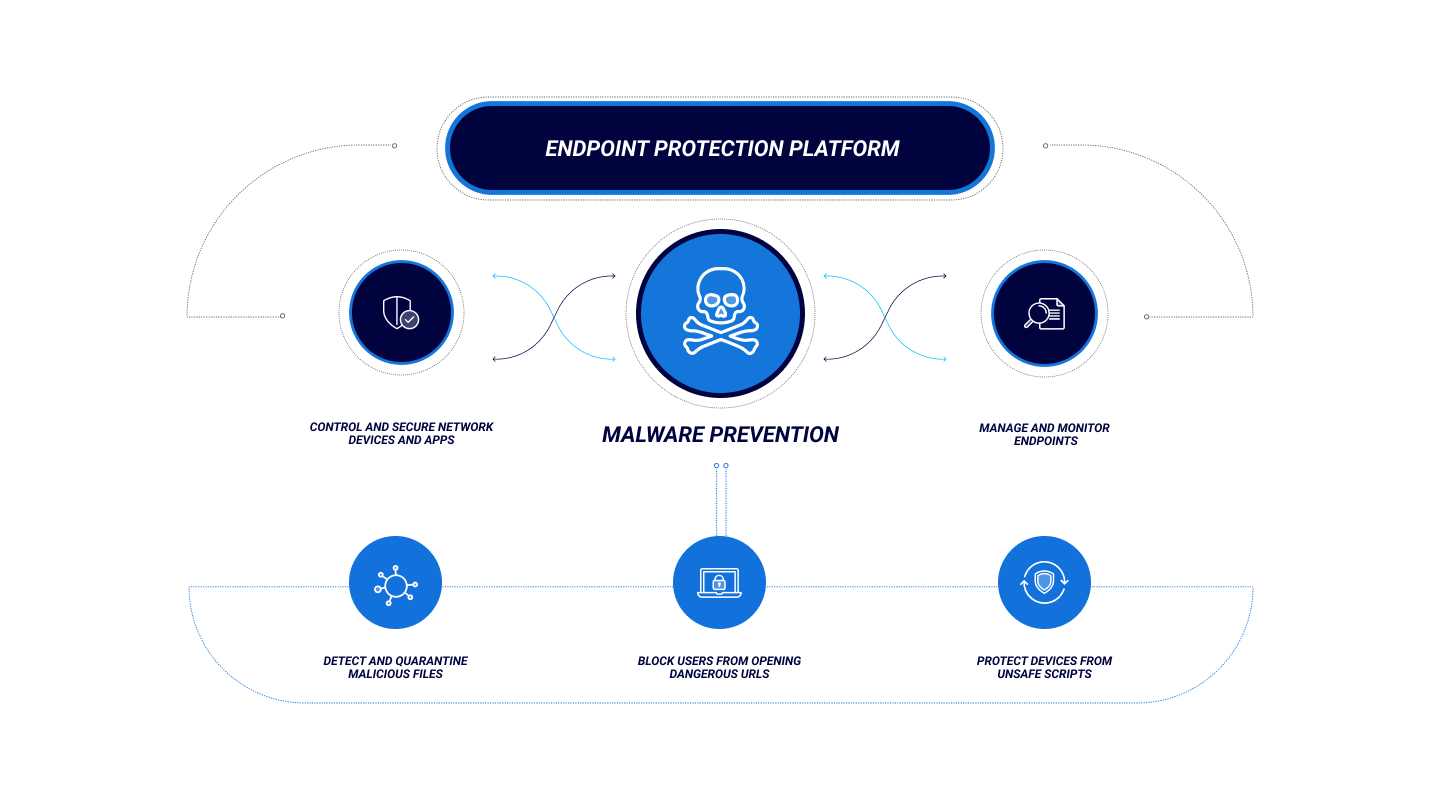 EPP Capabilities
According to Gartner, an EPP should "prevent file-based malware attacks, detect malicious activity, and provide the investigation and remediation capabilities needed to respond to dynamic security incidents and alerts."
An EPP needs to do the following:
Prevent Malware from Executing
The primary function of an EPP is to prevent cyberattacks. EPPs provide this prevention via multiple technologies that can:
Detect and quarantine malicious files that exploit memory vulnerabilities.
Block users from opening dangerous URLs or visiting spoofing pages that mimick those of legitimate websites.
Protect devices from malicious scripts and script paths.
Control and Secure Network Devices and Applications
In addition to monitoring endpoints for potentially malicious activity, an EPP must address security vulnerabilities and protect against breaches by implementing custom controls and permissions for devices and users across the network. This capability includes locking down systems, restricting changes to locked devices and setting access controls. 
Provide Visibility and Management
An EPP should have continuous access to real-time cyberthreat data to monitor ongoing activity. Security teams need visibility into this data via a user-friendly, customizable central console to manage endpoints remotely and control cybersecurity across the network. 
EPP Features
In addition to core functionality, EPPs should have features such as:
Sideloaded application detection to ensure apps loaded onto mobile devices are scanned and malware is prohibited from running.
Phishing and malicious URL detection to prohibit users from accessing dangerous websites or sites with embedded phishing elements.
Dashboard reporting to provide end-user monitoring and real-time alerting through a centralized console for quick remediation. Cloud-enabled EPPs enable security teams to monitor and manage endpoint security from anywhere.
Integration with other endpoint security and enterprise network tools, including EDR, Extended Detection and Response (XDR), and mobile device management (MDM) solutions.
Offline protection to ward off malware even when devices aren't connected to the Internet. Although EPPs should be cloud-based, malware prevention technology should be localized at the endpoints to prevent cyberattacks when devices are offline.
Artificial intelligence (AI) and machine learning (ML) to prevent new and evolving cyberthreats based on file behavior and patterns.
Benefits of EPP
EPPs solutions prevent cyberattacks, helping keep enterprise networks secure while providing additional benefits:
Stopping Ransomware
Preventing a cyberattack keeps malicious groups from stealing or encrypting enterprise data.
Simplified Management
A centralized console provides increased visibility into endpoint protection and easy remote management of devices—plus the elimination of external cyberthreats. 
Time and Cost Savings
Automated malware detection and prevention technology frees up security and IT teams for more productive projects. Centralized endpoint management also allows quicker, more straightforward security updates at the device level.
Both EDR and EPP solutions help protect enterprise networks from security incidents originating at endpoints but in different, complementary ways. Although EPP solutions focus on preventing threats at the network's perimeter, EDR solutions are designed to detect and identify advanced cyberthreats that aren't filtered by an EPP solution, providing security teams the information and tools for enhanced threat hunting.
FAQ
An Endpoint Protection Platform (EPP) is a cybersecurity solution deployed to endpoint devices to detect malicious activity, prevent malware attacks and respond to cyberattacks and alerts.
What is the difference between EPP and EDR?
EPPs focus on preventing threats at a network's perimeter, whereas EDR solutions are designed to detect and identify advanced cyberthreats an EPP doesn't filter.
The global shift to 
remote
 work arrangements has increased cybersecurity risks beyond experts' initial estimates. Protect your people, information, and networks with CylancePROTECT
®
. CylancePROTECT is an AI-based EPP that blocks cyberattacks and provides controls for safeguarding against sophisticated threats—no human intervention, Internet connections, signature files, heuristics, or sandboxes required.