What Is Managed Detection and Response?
Managed Detection and Response (MDR) is a service delivery framework for 
Endpoint Detection and Response (EDR).
 MDR outsources the functionality and expertise required to run a modern Security Operations Center (SOC). Typically, MDR includes 24x7 cyber threat monitoring and mitigation and provides a cost-effective alternative to EDR and 
Endpoint Protection Platforms (EPP)
.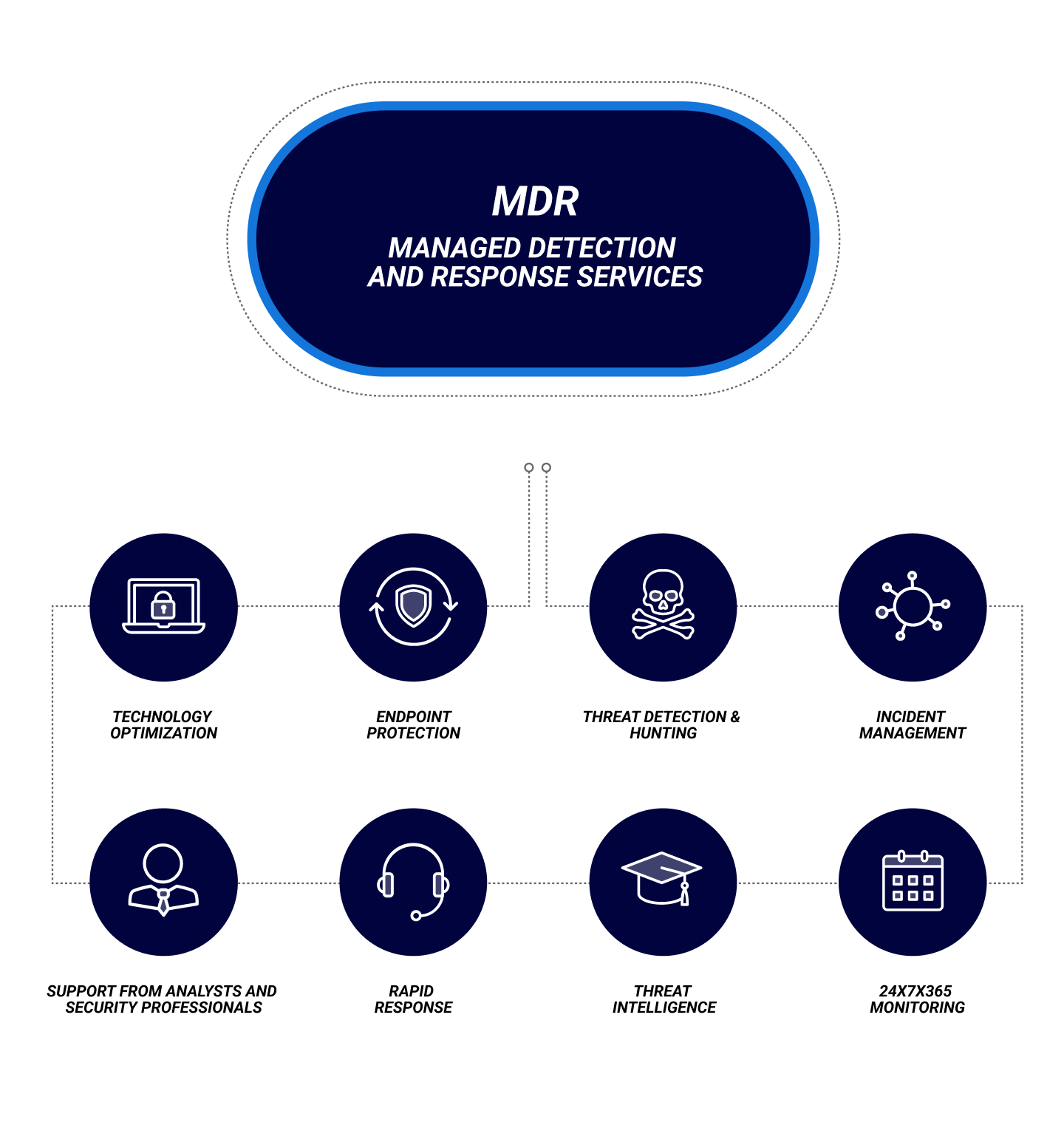 Benefits of Managed Detection and Response
The key benefits of MDR are: 
Access to experienced Security Operations Center (SOC) analysts to bridge internal skill gaps
Improved incident management, incident response, and remediation processes
Proactive threat detection and threat hunting
Better risk management and vulnerability management
More effective alert and notification triaging
Improved security and risk posture for employees and customers
Reduced total cost of ownership compared to traditional EDR
There is no end in sight to the ongoing cybersecurity skills shortage across the world. SOC teams struggle to do more with less, even as they face a threat landscape populated by increasingly sophisticated, organized, and well-funded cyber criminals. IT personnel are exhausted, overworked, and overwhelmed. 
MDR is designed to connect businesses with teams of cybersecurity experts, enabling the business to bridge gaps in their security infrastructure and expertise. MDR significantly reduces the burden on internal security teams, enabling the organization to pursue a mature, effective security program that encompasses both cybersecurity and cyber resilience.
More MDR benefits: 
Consolidates detection, remediation, and administration into a single dashboard
Reduces the time spent detecting and responding to threats significantly
Frees internal resources to focus on other mission-critical processes
Eases compliance and reporting
Provides access to deep security and threat prevention expertise
Managed Detection and Response Features
According to Gartner's Market Guide for MDR Services, the core features of an MDR offering include:  
A technology stack owned and managed by the service provider that enables real-time threat monitoring, detection, and investigation alongside active mitigation and response
Expert staff that engages with deals daily with client data
A standardized playbook for security procedures, workflow management, and analytics
Remote mitigation, investigation, and containment
Centralized detection, mitigation, and reporting functionality
A security service provider fully owns how threats are detected, identified, and validated
Reduced time between detection and mitigation
Generation and collection of security log data and alerts at multiple security layers
A combination of manual and automated mitigation processes, including account lockout, host isolation, and network blocking
Other MDR features include: 
24x7x365 threat monitoring, detection, and response
AI-powered endpoint protection
Incident/event management and response
Exposure, notification, and compliance management
Preauthorized and customizable analyst interactions and interventions
Advanced orchestration
Tailored triage and filtering methods
Organized, contextualized telemetry
Gartner also notes that MDR services are expanding to include technologies and coverage beyond traditional EDR, as described by Managed XDR. 
How Managed Detection and Response Works
Given that MDR is simply a managed services framework layered on EDR, MDR serves essentially the same purpose as EDR. MDR prevents and protects an organization's network from cyber threats, providing the basic functionality of EDR and EPP as well as the guidance and expertise necessary to use that functionality fully. This guidance may take many forms but typically includes one or more of the following: 

Red team and attack simulation
Penetration testing
Strategic risk management
Incident reporting, response, and forensics
Compromise assessment
Use Cases for Managed Detection and Response Services
Generally, MDR is used for one of two interrelated use cases: augmenting an organization's own SOC or serving as a remote SOC.

Augmenting an Organization's SOC
Many SOCs struggle to keep up with cybersecurity demands:

SIEM configuration is a logistical nightmare.
They're flooded with notifications from all sides.
Visibility is muddied at best.
MDR provides these security teams with relief and contribute the service provider's expertise as well as a robust suite of security tools. 
Serving as a Remote SOC
In smaller organizations, SOCs and dedicated security professionals are rare. Unfortunately, we live in a security climate where this is no longer an option. With MDR, even small organizations can keep themselves safe from even the most advanced threats.  

MDR and Managed Security Service Provider (MSSP) cover comprehensive security needs, offering security assessments and incident response capabilities. They differ in that MDR specializes in proactive, real-time threat detection and response, while MSSPs offer a broader, full-service solution. MDR pairs advanced technology with skilled security experts to monitor an organization's network and identify threats to minimize potential damage. On the other hand, MSSPs offer a more comprehensive range of security services, including infrastructure management, security consulting, tailored security strategies, and ongoing support for an organization's network.

MDR and
Incident Response
are effective solutions for cyber threats but serve different purposes. MDR is a proactive service that monitors an organization's network, systems, and endpoints, using technologies and a hands-on analytical approach to respond to threats. Incident Response is a reactive process that focuses on identifying, containing, and recovering from security incidents. While MDR focuses on prevention, it can incorporate Incident Response capabilities to recover and restore normal operations after an attack.
MDR and
Security Information and Event Management (SIEM)
are both vital cybersecurity solutions with distinct features and benefits. SIEM is a centralized platform that focuses on known threats and anomalies within an organization's network by gathering and analyzing security data from various sources. MDR is an outsourced service that focuses on unknown threats by combining human expertise and technology to detect and respond to cyberattacks. MDR can leverage SIEM tools to enhance its visibility and threat detection capabilities.
MDR and Security Operations Center (SOC) are both critical components of an organization's security strategy, each offering real-time threat detection and response. SOCs are internal command centers that employ professionals to monitor, analyze, and mitigate security incidents. While both SOC and MDR utilize a team of analysts to examine activity 24/7, MDR combines a skilled team of professionals with advanced technologies to enhance incident response capabilities and augment an organization's SOC.
The best way to describe the relationship between MDR and Managed XDR is to compare it to the relationship between Extended Detection and Response (XDR) and EDR. XDR is an upgrade from EDR; so, too, is Managed XDR an upgrade from MDR. 
XDR extends an organization's EDR capabilities while adding advanced threat intelligence as well as protections at the network, server, cloud, and application levels. Similarly, Managed XDR enhances the MDR framework by adding XDR functionality.
FAQ
Managed Detection and Response (MDR) is a framework through which an EDR solution is delivered as a managed service, complete with 24x7 monitoring and expert guidance.
What's the difference between MDR and Managed XDR?
Managed XDR, also called MXDR, is an upgrade from MDR. Managed XDR provides all the features and functionality of MDR while also introducing new security protections and enhanced threat intelligence.
Is MDR the same as Professional Cybersecurity Services?
While MDR is itself a managed service, MDR providers take a more in-depth approach than typical Managed Security Service Providers (MSSPs). With MDR, security professionals directly engage with the client organization on a 24/7 basis. With that said, MDR solutions and MSSP offerings frequently complement one another. 
Organizations face ever-expanding attack surfaces and more sophisticated cyber threats, yet their security teams and budgets aren't keeping up. MDR offers a solution by providing a cost-effective means of leveraging top-tier cybersecurity expertise and technology.
Companies of all size contend with a growing number of devices, each representing a potential new vector on their attack surfaces. Although challenging for larger organizations, it's nearly impossible for small and mid-sized businesses to protect their organizations when faced with supply chain issues and shortage of cybersecurity talent.
As a human-centric 24x7x365 Managed Detection and Response with XDR service, CylanceGUARD® provides the cybersecurity expertise and support businesses need. CylanceGUARD combines the expertise embodied by BlackBerry Cybersecurity Services with an AI-based Endpoint Protection (EPP) through CylancePROTECT®, continuous authentication and analytics through CylancePERSONA™, and on-device threat detection and remediation through CylanceOPTICS®. CylanceGUARD provides businesses with everything they need to contend with a modern threat landscape—no matter what that landscape throws at them.