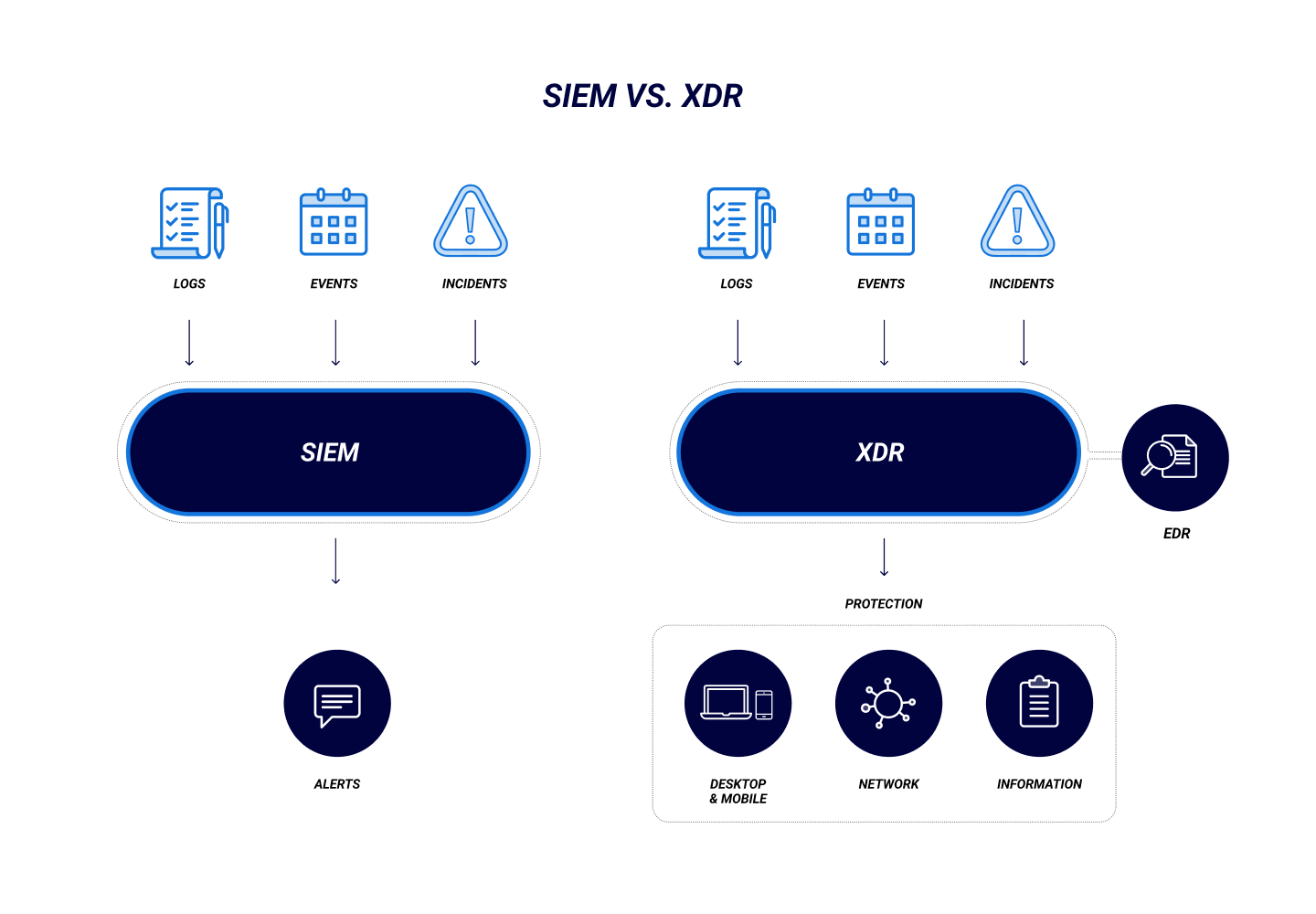 XDR is a unified cybersecurity solution that collects and analyzes data from multiple sources to prevent, discover, and respond to cyberattacks. It expands on
Endpoint Detection and Response (EDR)
 with additional capabilities for detection and response across a network domain, or even cross-domain, to cohesively protect an organization's entire digital environment, including its network, cloud storage, applications, and endpoints.
SIEM is a cybersecurity technology that provides SOCs with incident data for cyber threat monitoring and response. SIEM combines Security Event Management (SEM) from event data analysis with Security Information Management (SIM), which collects and analyzes log data.
SIEM solutions centralize and correlate logs and other security data from endpoints across a network for analysis; some SIEM solutions are capable of machine learning and behavioral analytics to identify suspicious network traffic, compile contextual reports, and to sandbox or quarantine endpoints when suspicious activity is detected. But  the primary function of most SIEM products is to generate and send alerts to SOC teams about security incidents  at the application and network hardware levels, requiring security personnel to investigate and remediate, if necessary.

The Difference Between XDR and SIEM
While both XDR and SIEM solutions collect, correlate, and analyze network data for contextual threat awareness, SIEM counter-measures are typically limited to pushing security alerts to SOCs—SIEMs can't automatically orchestrate cohesive real-time responses to cyber threats across multiple endpoints. XDR, on the other hand, can make proactive context-aware adjustments to network and endpoint defenses to neutralize threats while also alerting SOC team members to investigate.

What's Better: XDR or SIEM?
Visibility across the network is crucial for maintaining strong network security defenses, and truly cohesive and orchestrated network defenses are only possible when the full scope of an attack can be identified and remediated across the entire network in real time. XDR's ability to identify, alert, and neutralize threats across the whole network makes it a more effective approach for orchestrated detection and response.

As a human-centric subscription-based 24x7x365 Managed Detection and Response service, 
CylanceGUARD®
 provides the expertise and support that CISOs need. CylanceGUARD combines the deep expertise embodied by 
BlackBerry Cybersecurity Services
 with AI-based Endpoint Protection through 
CylanceENDPOINT®
. In short, CylanceGUARD provides businesses with the people and technology needed to protect the enterprise from the modern threat landscape.