Trusted Unified Endpoint Security and Unified Endpoint Management.
BlackBerry Spark® offers visibility and protection across all endpoints, including personal laptops and smartphones used for work. It leverages AI, machine learning and automation to provide improved cyber threat prevention.
Where Zero Trust Meets Zero Touch
BlackBerry Spark includes a comprehensive Unified Endpoint Security (UES) layer that seamlessly works with BlackBerry Unified Endpoint Management (UEM) to deliver Zero Trust security with Zero Touch experience.  
But one size rarely fits all, especially with a remote workforce using devices that may or may not be owned by your organization. That's why BlackBerry Spark Suites are available with a range of offerings to meet your needs for UEM and/or UES.
BlackBerry Spark offers the broadest set of security capabilities, management tools and visibility covering people, devices, networks, apps, and automation.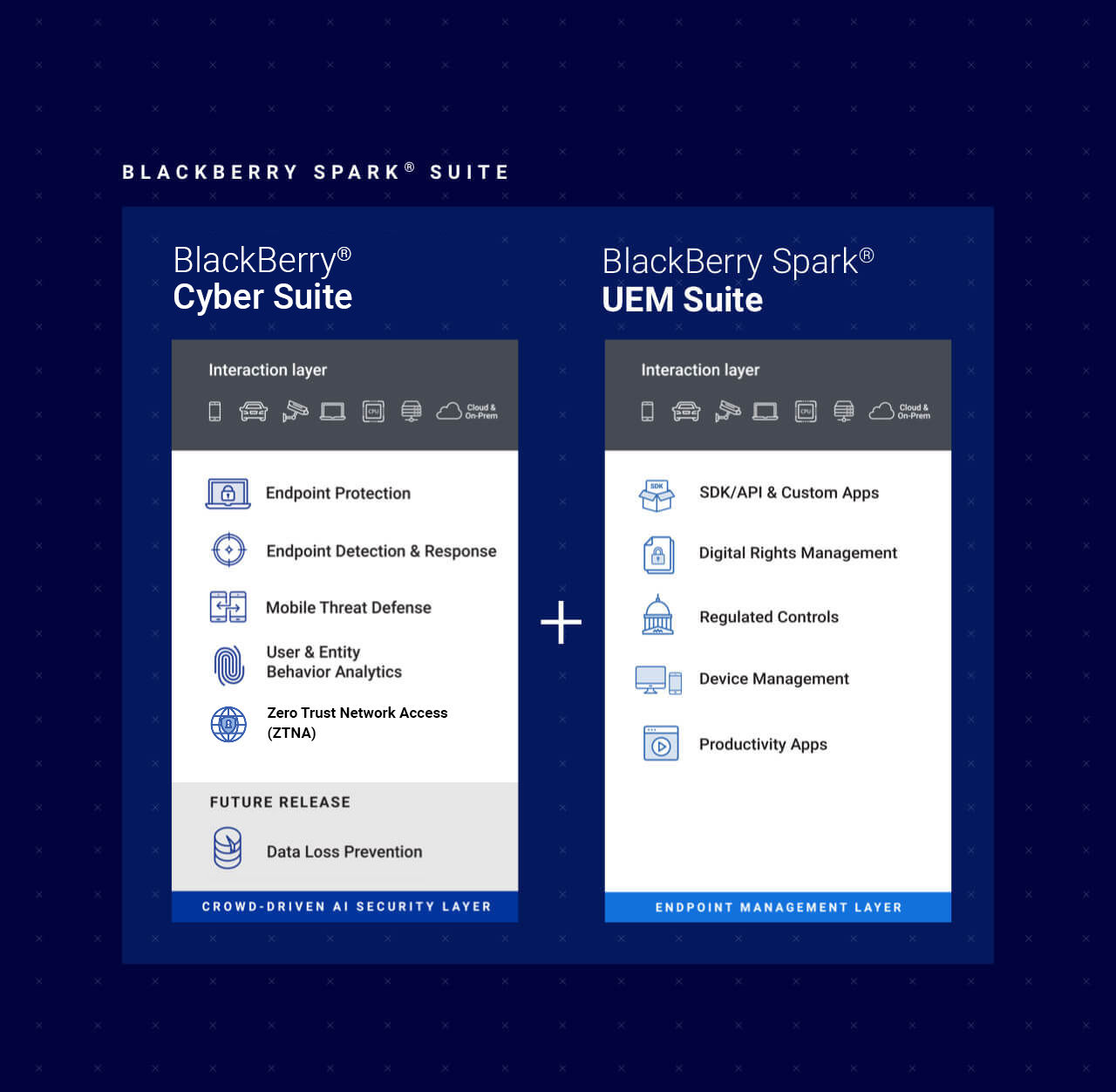 Calming the Chaos
Organizations today face an increasingly chaotic environment where not only are employees using their own laptops, smartphones and tablets to work remotely, but cyberthreats are ever-more sophisticated and pervasive. BlackBerry Spark combines UEM and UES so you can have one view of all endpoints to ensure security and productivity, at a time when the number of enterprise endpoints and data shared at the edge are growing exponentially.
UES: AI-Enabled Security Across All Endpoints
BlackBerry Spark is built to enable a Zero Trust security environment, focused on protection across any endpoint and continuously validating trust at every event or transaction. By analyzing user behaviors and dynamically adopting security policies, it continuously authenticates users to deliver a Zero Touch experience that improves security with no user interruption.
While other solutions address parts of the problem, BlackBerry Spark provides a total solution for Zero Trust with full coverage across the full spectrum of devices, ownership models, networks, apps and people.
Endpoint Protection
Endpoint Detection and Response (EDR)
Mobile Threat Detection (MTD)
User & Entity Behavior Analysis (UEBA)
Data Loss Prevention (DLP)*
Secure Web Gateway*
UEM: Advanced Device and Application Management
Your network is expanding with more endpoints than ever before. And with more, or even all, of your staff working remotely, you need the right combination of capabilities to ensure you have insight into all the devices they're using for work. With a combination of security innovation, management tools, platform stability, deep experience across operational environments, and enhanced productivity applications, BlackBerry Spark Suites deliver the right capabilities to support your endpoint management and workforce productivity needs.
Mobile Device Management (MDM)
Mobile Application Management (MAM)
Mobile Content Management (MCM)
Identity & Access Management (IAM)
Industry-leading mobile security
Find the Perfect Package for You
Choose the BlackBerry Suite that Meets Your Needs
BlackBerry Spark® Suite
UEM & UES
UEM Suite + UES Suite features for full Unified Endpoint Security and Unified Endpoint Management
BlackBerry® Cyber Suite
UES – full features
AI-Driven Endpoint Protection, Detection & Response, integrated Mobile Threat Defense, continuous authentication and adaptive risk scoring.
BlackBerry Spark® UEM Suite
UEM – full features
Regulated Sector Controls; SDK/API & Customer Apps; EFSS/DRM; Identity; UEM Notifications, and dynamic policy adoption.

Get Started Today. Speak to a salesperson about what BlackBerry Spark Suites can do for your organization.